01. ILLUSIONS OF GRANDEUR
I've been called an overly creative person all my life, which to me just means thinking beyond the the obvious. When people ask me what I do for a living, I often tell them "I create illusions of grandeur" (which I produce through advertising art direction, web development and business structuring). People come to me when they are ready to take something to its next level, whether its product or business branding, reputation enhancement, pitching something or just building an awareness campaign. I've been lucky enough to be in the right place at the right time, and sometimes have simply been able spot a good opportunity when it reared its head.
I've been lucky enough that many of my campaigns captured number one market positions. And, while I've been involved in a wide variety of advertising roles and positions, I am most sought for my work as an Art Director and Web Developer. After 40 years of advertising deadlines (20 of those in web development), I have a amassed a very interesting portfolio of projects from a uniquely recognizable client list, but only after a long, exhausting journey of deadline-driven projects and a constant, never-ending education about what makes things tick.

02. GETTING MY FEET WET
For the most part, I grew up in Long Beach, CA. I was always pretty good at art and was actively involved in high school art related things such as Governor of Fine Art, Advertising Club President and various Student Body Committees (where I was often called upon to design flyers and the school newspaper). I think everbody knew I would eventually make a living with art in one form or another, but I really secretly wanted to be a rock star.
After high school, I traveled to Salt Lake City Utah to live with one of my half brothers, where I did make the attempt to fulfill my dream as the lead singer of a local band named "Crevice". Oddly, all the members of the band worked for different local steel factories. We were all in great shape, but only mildly popular in the area.
Like any young man, I wanted to explore the world (or at least California because I love the ocean) so I moved around a lot. I landed in Ventura, where I worked for a small singing telegram business called Pacific Music Notes and worked on various low-paying endeavors including a costumed role as local radio station KGAB's mascot "Wacko the Wonder Duck", a foul-mouthed event-disrupter who's job it was to be obnoxious at promotional parties. Fun, but the gig didn't require much talent other than trying to stay sober under that heavy suit. People were constantly buying Wacko cocktails and I was constantly drinking them.

03. LEARNING FROM THE BEST
I had been a cartoonist since I was a kid, but oddly found myself working at KGAB radio in Ventura doing radio station promos and sometimes as the mascot "Wacko the Wonder Duck" when they couldn't find someone brave enough to get into the suit. I had become good friends with the staff, but the work environment was changing.
Our lead disc-jockey, Bob Gowa, was offered a job at KMEL radio in San Francisco and events director, Bruce Roberts was moving up the coast to Carmel-By-The-Sea to manage KRML (the same station used for Clint Eastwood's movie "Play Misty For Me"). While I was visiting Bob, he suggested we drive south to see his friend Starr, in Monterey, who was promoting Tom Petty's first major album.
I fell in love with Monterey and in particular Pacific Grove and stayed. I found a job the next day at Ron's Liquors and on the side, I drew caricatures of tourists on the Monterey Wharf and on Cannery Row, under the guise of "Godfather Cartoon". I literally would dress up in a pin stripe suit, don a fedora and carry my art supplies in a violin case. It sparred a big annual birthday party for me called the Godfather Celebration, that later became too big to manage (after 750-1000 people per event).
My caricatures were more realistic than funny, exaggerated features so it didn't always come out the way most people might have envisioned. Once, I was drawing a caricature of a rather plain looking young lady and upon finishing, her boyfriend took a peek. He said, "That's the ugliest drawing I've ever seen." Being young and stupid I replied, "I draw 'em as I see 'em". He decked me and I decided caricatures were not worth physical pain and it certainly didn't pay enough to take care of any medical bills.
When I wasn't wearing the fedora, I could been seen around the row with a railroad engineer's cap. Why? I have no idea. I eventually became a known cartoonist/graphic artist and had a studio on Cannery Row above BullWackers (where the infamous brothel Flora's used to be during the cannery days) I knew the owners of the Monterey nightclub "The Club", Ray Doty and Brooke Lewis. Brooke's company office was right next to my studio and Ray decided to open the restaurant underneath. Since I was known for designing logos, menus and nightlife promo posters for many bars and restaurants around town, I also designed the logo for Bullwackers, created the story about a confused sailor who was in search of the lost sardines and created cartoons on the walls of the restaurant. Cary Crockett, another cartoonist (better than me) painted the logo on the front of the building that is still there today. As a matter of fact, I signed the beam above the bar (twice) when I originally was there and then about 20 years later while visiting.
The biggest problem having a studio on Cannery Row were all the bars within walking distance of each other. The Boiler Room, 1st National Fog Bank Saloon, Captain's Galley and Sly McFly's were all hot places to hang out and you could find me drawing at the bar for free drinks (or food) on a regular basis. It all seemed like a bit of a blur considering the amount of bars I hung out in where I created hundreds of cocktail napkin cartoon art (while drunk) which ended up in the hands of a revolving door of tourists. (Years later people would send me scans of the art they held on to and shared with me on Facebook). It blows my mind, every time someone finds one.
I was always broke. But, I can't begin to tell you how many times I ended up sleeping off drunken evenings at my studio and not having a clue as to the name of the companions I woke up with. I do remember one woman that was a visiting Mayor from a town in Oregon.
The Row had a way of inspiring creativity and I designed many things for the developers on the McFly's restaurant chain (also with offices on the Row), including stain glass windows, caricatures based of famous historical figures and about 100 t-shirt designs sold everywhere. I often collaborated with other Monterey artists, Bob Wecker, Jerry Takigawa, Bill Cooke, photographer Don Gruber and became a regular pest to Playboy cartoonist, Eldon DeDini in Carmel. These were my initial mentors in commercial art and whom I aspired to be. They were the crème de la crème creatives of the Monterey Peninsula.
It was DeDini who introduced me to the Northern California Cartoon and Humor association (members included DeDini, Gus Arriola ("Gordo"), Charles Schutz ("Peanuts"), Tom Armstrong ("Marvin"), Cathy Guisewite ("Cathy") and many others. I became a room-mate of Don Gruber's in Pacific Grove and shared offices with Bob Wecker in Monterey for a short time. Hanging out with these guys helped my cartooning style become more defined and my graphics work become sophisticated enough to win a bunch of printing design awards.
My buddy Bruce Roberts became a Monterey Sheriff and later was asked to join the Clint Eastwood for Mayor campaign in Carmel (instead of running against him). My last designs were for that campaign before moving to Los Angeles. But, not until I had one last party called "Ciccarelli Goes To Hollywood" so I could say goodbye to everyone. I was supposed to leave the next morning, but had spent all my money on drugs, drinks, a limo and the popular Chris Cain band.
I ended up sleeping in my studio for a week, while working low-key for Cannery Row clients to earn money enough to leave. I'll never forget all the wonderment and craziness the Row offered during my years there.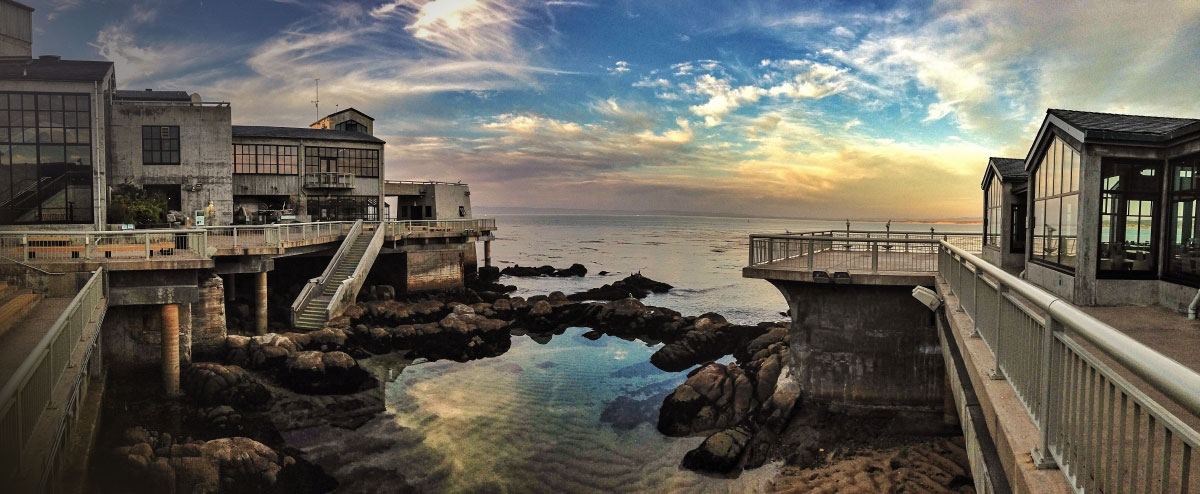 04. RUNNING OUT OF LOCAL PROSPECTS
For a while, I worked as an on-staff graphic designer and special projects director for a corporation called The Cambridge Diet Plan (owed by local millionaires Eileen Feather and son Vaughn Feather). At the time, the company was bringing in a million dollars a day. Working at Cambridge taught me the structure and inner workings of fast paced corporate environments, how they think and advertise, but also how careful one must be about pissing people off above you. (I was fired twice there for being an opinionated Italian). One of my main jobs was to keep the staff morale in high spirits while they worked exhaustively 7 days a week. I had unlimited budgets, so I designed things like a big 50s dance, a 5,000 person picnic at Laguna Seca Raceway and private concerts with Gallagher and Pablo Cruise and tons of other fun things. Unfortunately, the company would become known as the "killer diet" because people were using the product and dying, (oh yeah…plus that being fired thing), so I moved back into the freelance world again.
I became one of many main artists for the McFly's Bar and Restaurant franchise (considered a distinct honor at the time) and designed many promotional items (posters, flyers, menus) for other restaurants, bars and nightclubs in the area and also one in Southern California. I illustrated an entire wall of famous detectives throughout history for P.I. McFlys at the Sherman Oaks Galleria. I also created a cartoon strip called "Police Blotter" for the local Pacific Grove newspaper and also held several fine art shows at The Pacific Grove Art Center. But, it all seemed like a bit of a blur considering the amount of bars I hung out in where I created hundreds of cocktail napkin cartoon art (while drunk) which ended up in the hands of a revolving door of tourists. (Years later people would send me scans of the art they held on to and shared with me on Facebook). It blows my mind, every time someone finds one.
My last project in Monterey was for the Clint Eastwood for Mayor (of Carmel) campaign, whom my buddy Bruce Roberts had begun working on. By this time Bruce had become a police officer in the Monterey County Sheriff's office and was running for Mayor as well, but when Clint entered the picture, his celebrity status was really larger than life and Bruce was asked to help Clint's campaign. Bruce hired me to design memorabilia booklets and t-shirt designs with a cartoony flair.
After 8 years I had pretty much exhausted my potential new client options in Monterey and decided that a larger market (Southern California) to open up opportunities for myself. Monterey Art Director John Bruno had moved south to work for a company called Boss Films and on a little movie called "Ghost Busters". He introduced me to other artists at Disney (who wasn't biting) and my first client in Los Angeles, Peterson Publishing. I designed snippets of illustrations for Motor Trend and did all the cover lettering for Car-Toons magazine. Personal computers had not really entered the picture yet so I did this all by hand. I also had the honor of working on promotional art for Landmark Entertainment Group who designed some of the most incredible tourist attractions around the world, including Universal theme parks.
Over a period of time I opened a studio near LAX which moved to Marina del Rey and became Ciccarelli & Gray with my friend and artist Tom Gray. One of our apparel clients became involved with the historic Voyager Aircraft. The Rutan Model 76 Voyager was the first aircraft to fly around the world without stopping or refueling. It was piloted by Dick Rutan and Jeana Yeager. The flight took off from Edwards Air Force Base's 15,000 foot (4,600 m) runway in the Mojave Desert on December 14, 1986, and ended 9 days, 3 minutes and 44 seconds later on December 23, setting a flight endurance record. My job was to design a logo and other promotional items. Just before the flight, we realized that the crew had no official gear to wear on the flight with their name on it. I stayed up all night long to hand airbrush the logo on sweatshirts. Photos on the front page of the L.A. Times showed the airbrushed logo emblazoned on Dick Rutan and Jeana Yeager shirts with their outstretched arms. Later the shirts made it to the Smithsonian Institute and are now displayed with the plane.
I managed to squeeze in a marriage to my high school sweetheart amidst all my work (but unfortunately it only lasted a few months). At the airport studio I was introduced to a writer named Cynthia Lewis. She was in need of graphic help for her clients and I needed a really good copywriter for mine. I didn't know it at the time, but her father, Chuck Lewis, was the Copywriter and Creative Director of a well known B2B ad agency in Hollywood, Reeds, Farris & Lewis. He would later become my advertising mentor and change my career forever.

05. GRADUATING TO ART DIRECTOR STATUS
Cynthia Lewis must have seen something in me or my work because she somehow convinced her father to meet and hire me as an art director. I had worked as a freelance artist for ad agencies upon occasion, but never on staff and it scared the shit out of me. Ad agencies are an extremely competitive world and you are responsible for very large ad budgets. You have to be exceptionally creative. I had tried for several years to get Chiat Day to notice me, including taking out a billboard across the street from them in Venice Beach (with a picture of me holding a Teddy Bear with a plastic gun to his head, along with the headline, "Hire Chick or the bear gets it"). I got an interview, but not a job.
Chuck Lewis took me to new heights. His writing and photography skills were so dead on with whatever client he was promoting it was frightening. He came from that Ogilvy Mather, old-school level of ad creation that I had admired for years. Chuck was a hard act to follow with visuals. He taught me that there is a big difference between designing as a graphic artist and designing as an art director. Graphic designers create for the look, but art directors create with a strategy in mind — to get someone to the call to action trigger. I was lucky enough to work on accounts such as WorldPort LA (the Port of Los Angeles logo, World Cruise Center), MGM Grand Air, Custom Building Products and others, many of which I won design awards for. The World Cruise Center became the largest passenger facility on the West Coast and the fourth busiest in the nation. We captured a number one national market position for Custom Building Products and a number one International market position for WorldPortLA.

06. THE FILM BUSINESS
Oddly enough, I found myself taking a break from advertising, and returned to my music roots to write a musical called "Secret Identity" (about a nerdy kid in love with a rocker chick). While doing so, and quite by accident, I co-founded Theafilm Distribution Network, which offered a new way of film distribution for independent producers.
I was living in the penthouse of the Hollywood Tower and film producer living in the same building approached me about trying to raise money for his film. He asked me to take a look at a way to pitch theatre owners, something's that's really not done unless you are doing a thing called "4-walling" which is more about paying to exhibit a film when you have already paid and produced it, but can't land a distributor. You usually don't ask theatre owners to fund a film's production. After a couple of weeks, I ended up creating the highly publicized 'flat-lease' motion picture distribution process. Peter Bart at Variety ran several feature articles about the process and we were the talk of the town for several years. We reviewed over 200 films from HBO, Showtime, Dino Delaurentis and other well-known film producers and production companies.
The group eventually fell apart because of a difference in management styles, but before I abandoned the concept completely, and to prove that the distribution process worked, I created a temporary company called System X and implemented the national theatrical trailer exhibition of "Wing Commander-IV" on 570 General Cinema screens, a first for the electronic gaming industry and hailed as victory for indie film producers.

08. THE MOVIE & MUSIC INDUSTRIES
Moviola and LA Digital and Editvu
Grammys, Latin Grammys, Sundance, Hollywood Symphony
Theafilm
Kato

09. MEDIABUYS/NEW ORLEANS
New Orleans Sponsorships for mardi Gras after Katrina. In an effort to help bolster economic development in New Orleans after the devastation caused by Hurricane Katrina, city officials have authorized the nation's leading media buying club, MediaBuys, LLC to seek out corporate involvement for Mardi Gras in February of 2006.
Bruce Jenner National Dog Agility Show

10. WEBWIZARDS
Latin Songwriters Hall of Fame
Songwriters Hall of Fame
For many, the Internet and new technology is moving far too fast to keep up with. Online applications can often pose a challenge to operate and while smart phones and tablets have changed the way we communicate significantly, it has also increased user frustration tenfold. Lack of personalized customer support and user knowledge is at the heart of the matter and introduces major new challenges for individual users and businesses (online and off). That's where WebWizards comes in. We show people how things work online by offering users the ability to meet, interact and learn from certified support and training experts, face-to-face rather than dealing with overly complicated online help tools or automated support systems. We operate primarily on the premise that people learn much easier if they are shown how to do something, in person.